This is the most painful review of an African restaurant I have had to write. The fact is that when I finally press the "publish" button today, this piece would have been lying in "draft" for close to 6 months while I agonised whether to publish or not. You don't want to crack an Afropean business but on the other hand, you want to call a spade a spade in the hope that people will improve.  In the end, I have to be true to myself and talk about my experience. It might differ from what others have experienced but mine is mine!
Mama Essi restaurant is one with very big potentials and the fact that many people still find their way there is certainly not because but in spite of the services and food quality. One has to wonder how many of the first time customers actually become second-time or regular customers. I am writing this as a person who has been there 7 times! Each time I always left with a feeling of being cheated out of my money. The whole eating-out experience and ambiance is missing.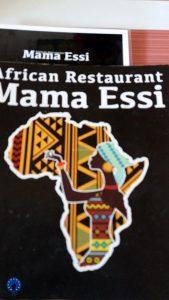 While the food is generally tasty, there are moments, like during my 7th and likely last ever visit, when the food a colleague got was not edible. This was because the fish was old and rotten! You would be asking for trouble if you complained directly to Mama Essi herself. She does not take feedback gracefully. My friends and I have been at the receiving end of her cold stare before. We had dared to say something about the food. You might ask why I kept going back if I was not satisfied with the food or service. For one I kept going back because I was hoping that things would change because of the potentials I saw. Also I am one for giving people the benefit of the doubt especially if it is an Afropean business. However people will not improve if we keep quiet because we want to be nice to a fellow Afropean in spite of bad services.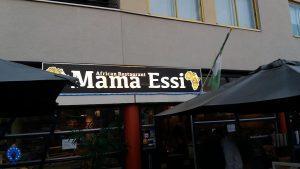 During this last visit things came to a head when we had to wait ages for our orders. When they finally came, they were not what we ordered. It was clear that she was short of at least 2 staff members to help her during the busy hours. What was more, at the end of our visit, we got billed for things we neither ordered nor got.  It took a while to clear the mess up. In the course of the evening, we could see that the female cook looked cowed and tense. This was not surprising given the fact that the owner (Mama Essi) kept shouting at and demeaning her own partner in front of the diners in the restaurant!
I later ordered a takeaway that took hours before it was ready. Even then when I got home I found my jollof rice was served with chicken even though I specifically ordered beef!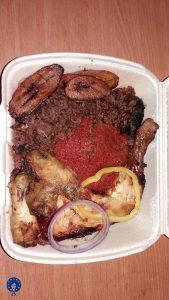 The irony is that during my 3rd or 4th visit to the restaurant, she was saying she was short of staff because people only want to work there for a couple of weeks and leave!  When people treat their spouses with that much contempt, it does not require a genius to know how the staff is treated. Mama Essi walks around with a permanent frown bordering on a growl every time. When she smiles it is plain to see she is making a big effort. Smiling is not something that comes naturally to her!
At the moment people still go to Mama Essi and maybe that is why the owner does not realise she is neither efficient nor customer-friendly. But I suspect it is because of lack of choice in Rotterdam. What she might not realise yet is that she is losing more clients through incompetence and even basic empathy. As long as she has enough clients to pay her bills, one suspects there may not be much to change. This is such a pity because considering the location and what is on the menu, Mama Essi restaurant has the potential to be a great Afropean restaurant in Rotterdam.
When I asked my colleagues and friends to give Mama Essi a rating after this last visit, one of them gave it a rating of 1 out of 10. Another colleague was less generous and said he would give it -10 out of 10. I will go with what I said that day and give it a rating of 4/10. I am all for redemption.