Kenyan Delicacies is a pop-up restaurant at the very beautiful Hofhouse Food Court which is just a minute walk from the Central Station at The Hague, The Netherlands. There are other restaurants too and if we did not know exactly what we (a colleague and I) were looking for, we would probably have missed it. This is because while most of the other restaurants had signposts showing their names, Kenyan Delicacies had none to make it eye-catching.  Since it is also tucked away at a corner in the food court, it would be nice if they had a sign post to catch the attention of potential customers. However and in their defence it turns out they have just been the spot a couple of weeks ago. Coincidentally, while we were mentioning this to the chef/owner the manager of the food court came around to talk about having a signpost including 2 side menu boards installed by the end of the week. So they were already working on that!
But we did not come there to watch the signposts or the sideboards. We came there to have a taste of the Kenyan snacks that were on offer. It was lunch time but we were both not really hungry but still we both decided to have samosas and chai (which is Kenyan tea mixed with tea. Sugar is optional.). First of all, the chef/owner of Kenyan Delicacies has to be the nicest person ever! She made us feel completely at ease and it took no effort on our side to complexly relax and have some small talk with her while she was making our samosas. It turns out she is a lawyer by profession but has decided to abandon her profession for her passion which is cooking and making food!
My colleague and I have eaten our fair share of samosas in our lives so we both know how a samosa is supposed to taste. So when ours were served, we both could not really wait to take a bite from the hot samosa. It was all worth it! The pastries were well cooked and once it opens in your mouth, you could taste the chicken inside. Not only could you taste the chicken bites, but that it was well done and marinated too. It was it was really a finger-licking experience having downed the samosas with the chai!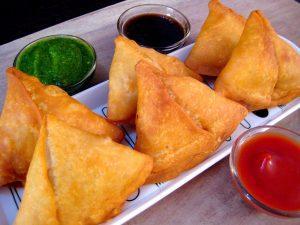 So all in all I would recommend Kenyan Delicacies to you! The next time you are in the vicinity of the Central Station at The Hague, just drop by and be treated to the best samosas money can buy in The Netherlands! Kenyan Delicacies menu card show real Kenya/East-Africa meals like Ugali meal, Tilapia meal, roasted meat, Chapati and Mandazi. So for me, I have a reason to pop in very soon again to have a taste of one of those meals. And we are certain the next time we go, there will be a small billboard there that says Kenyan Delicacies and make it stand out as the only African restaurant at the food court!
Rating 4 out of 5 ****