Let me start with the most important announcement; the food is great!
African Kitchen in Amsterdam is advertised as the place where one can have a taste of the best cuisine West Africa has to offer ("African Kitchen is the exclusive restaurant in the heart of South East Amsterdam featuring West African and international cuisine with a house speciality of Nigerian entrées" – source africankitchen.nl). What this mean in real terms is that they are experts in the cuisine of the Southern part of Nigeria augmented with a few dishes from Ghana. If you are looking to have dishes from Southern, Eastern, Northern Africa you are going to be disappointed. Africa at African Kitchen is Southern Nigeria! The "international" that is advertised is therefore stretching the fact a bit.
The African Kitchen website offers very little information. I went to the website to check their opening times because I wanted to have a dinner meeting there. However, this primary and obvious information was nowhere to be found. The website itself is like an afterthought. From what I could see, the latest pictures there are from 4 or 5 years ago. The little information on website is also very dated. Which is a pity because your website is mainly how people will form their first impressions of your business!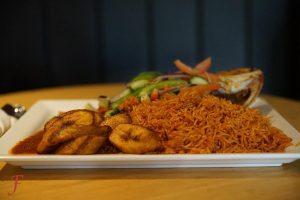 It can be a bit confusing for a first time visitor to find the restaurant. This is because even though one sees African Kitchen written on the glass screens at the address where it is situated, the first entrance you see actually leads to a completely different business enterprise. To enter African Kitchen you have to use a different entrance at the side corner of the address.
The restaurant itself is bare. ("With colourful décor that focuses on West African culture" – source africankitchen.nl). Maybe that was the intention. Or maybe it used to be that way, but as of June 2018, there is really not much in terms of decorations. There is a small carving and a West African painting hanging there. If that is "colourful décor that focuses on West African culture" then people are selling West Africa short! You get the impression that they are more focussed on the food rather than creating an "African" ambiance. The chairs are for you to sit and the tables are for them to serve the food for you to eat. The most prominent wall decoration there is the flat screen TV that is constantly on.
To be clear, every time I am in Amsterdam, I always go there to eat. So as you can guess, I am not a new visitor to the African Kitchen. I am writing this review as a result of my latest visit which was at the end of June 2018.  It is clean and the staff are always friendly. However, the main reason I keep going back is the food. It does not matter what you order, it is always delicious and finger-licking tasty. Whenever I want to eat the best Egusi soup and Fufu, (I must confess, I only always order Egusi and Fufu because theirs is the best!) I always go to the African Kitchen in Amsterdam.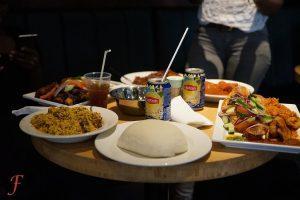 I have been there with friends and/or colleagues who always order different cuisines (this time, my friend ordered Fried rice with spare ribs. She is also a regular visitor too!)  I will always find a reason to eat at the African Kitchen! What is more, the price is really very good. For 15 euro or less, you can have very authentic (Southern) Nigerian cuisine there. So if you are like me and just want to eat a tasteful dinner and do not really care about the decorations and ambiance, I would recommend African Kitchen. Give it a try!
Rating 3 out of 5 ***